Our Products
Atlanta GA Bulk Landscaping Materials Supplies
Green Brothers Earth Works, your Atlanta GA Metro source for landscaping materials and landscaping supplies provides a variety of bulk and single products for your outdoor living environment creation. Our products include the following.
Alpharetta Landscaping Supplier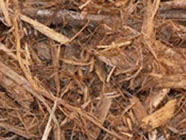 Green Brothers carries eleven (11) different types of mulches with different textures, color, and prices. All mulches will help retain moisture in the ground so plants will grow healthier. As these mulches break down, they add top soil to your ground. As good top soil is developed, worms will move in adding nutrients. Pine bark mulches will break down the quickest, then hardwood barks, then the dyed products. All mulches will last approximately one (1) year. You should put mulch down at 2″ thick. Any less not enough, any more overkill. You will have to mulch every year. The second year, you should put down another 2″. By the 3rd year, you will have a good base of top soil. You will only need 1″ of mulch to top dress your gardens.
Dyed Mulch – We carry red-dyed mulch, black-dyed mulch, brown-dyed mulch. This mulch is mainly used around trees, shrubs and in large open areas. This product is made from the wood of hardwood trees. It is ground and screened for cleanliness and then dyed your favorite color (red, brown, black). This dye is echo friendly and will last approx one year. When using dyed mulches make sure rain is not a threat for at least 6-8 hours after spreading your mulch. The dye needs time to cure. A heavy rain within the first few hours will wash off the top layer of color. This is our number one selling mulch.
Pine Bark Mulch – We carry Pine bark nuggets, Pine bark mini, and Pine bark mulch. Used around trees and shrubs to enhance natural areas and to help keep weeds down and preserve the moisture in the ground. This product is great around acid loving plants (slick leaf evergreens).
Cypress Mulch – This mulch is excellent for playground areas. It is certified I.P.M.A.and A.S.T.M. F 1292-96. These are the required certifications for day care centers throughout Georgia. This mulch deters insects because of its odor. Cypress mulch also does not decay like other mulches which prevents mud from building up in playground areas. Other mulches break down much faster creating muddy patches. To maintain your cypress mulch you will need to turn it every 6 months with a pitch fork. By doing so it will last 2-3 years. If you do not turn it you will have to top it off every year.
Double Ground Red Oak Mulch – This product is our second best selling mulch. Remember any mulch put down is a host for insects. This does not mean you will have an abundance of insects. Termites live underground and eat wood, not bark. Red Oak mulch is the bark only from Red Oak trees. Using a granular insecticide is always a good idea around the outside of your home. This gets rid of all creepy crawlers that might eventually get inside your home.
Nutra-Mulch – This is a composted manure. This product is mixed with peanut hulls in the composting process. We use 25% of this product in our Flower mix and Landscaper's mix. Nutra- Mulch is also 50% of our sod dressing. This product is also used as a mulch in flower beds.
---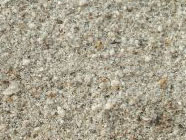 Green Brothers Earth Works offers several quality sand products.
Granite Dust – This nutrient rich granite product is the primarily used in our Flower mix and Landscape mix. This product has 13 different micro-nutrients which is like giving your plants/vegetables a vitamin! Granite dust is also used under pavers and walkways.
River Sand – Screened river sand is used for leveling Bermuda, Zoyzia and Centipede lawns. This product is also used in soils to improve drainage.
White Sand –This screened beach sand is used in play sand boxes, masonry work and the leveling of yards.
---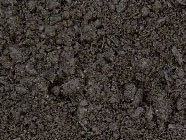 Green Brothers carries four (4) basic soils – fill dirt, top soil, flower mix, and landscape mix. We could carry 10-20 different soils, however, we have simplified the process with soil selections with over forty (40) years of proven success.
Composted Top Soil – Made of organic materials, this soil is used for blending with other Green Brother's soil mixes.
GA Top Soil – Understand the first word, Georgia! The same soil you have in your yard not some black soil from the Midwest. Look around, trees, shrubs, grasses have all been growing in Georgia top soil and clay for hundreds of years. Georgia soil is great! You just need to keep it loose and moist like any other soil. Our top soil comes from job sites around the Atlanta area. When land is cleared for development, they remove the top soil which is then delivered to us in most cases. We screen the soil with our own screen machine which breaks up the soil which is then easier to work with. This soil is used to level yards before sodding or seeding, building burms, etc.
Flower Mix – developed in the 60's for roses. 3500 roses were planted in this soil every year. This soil is made up of compost, Nutra mulch and granite dust. The compost keeps the soil loose and moist, the Nutra mulch adds organic manure and the granite dust (our secret ingredient) has thirteen (13) different micro nutrients which really makes the difference. This soil can be planted directly into or roto-tilled into the existing soil. Because of being all organic, this soil should not be used over 8″ in depth. You will lose approximately 10-20% in depth over the next year because of decomposing. This soil is also great to add when planting shrubs and trees.
---
Roses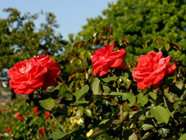 Bare root – dig your hole 18″ wide 1′ deep, fill the hole with flower mix, put about a 5 gallon bucket of flower mix on top of the hole creating a cone. Spread the bare root rose over the cone and add flower mix to cover the roots.
Roses in containers – put the rose on top of this hole filled with flower mix, mound flower mix up to the crown of the rose. Roses love water but not wet feet. Fertilize every 6 weeks, prune in February and again in July/August to remove fungus and insects.
Landscape mix – this soil was developed for planting beds deeper than 8″. We mixed top soil with flower mix 50/50. This soil is used for planters, burms, etc.,
Fill dirt – native Georgia soil, good for back filling walls, filling sink holes etc.
---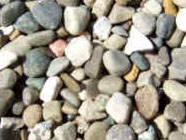 Green Brothers Earth Works offers a variety of decorative gravels.
#57 Stone – drainage rock and used in French drains.
Surge Stone – large granite used in spill ways
Pea Pebbles – used in walkways and landscape beds, ¼ – ½" in size
Deco Pebbles – landscape beds and driveways, ½ – 3" in size
Crush-n-Run – driveway base and a paver base
River Slicks – used for dry creek beds, 4"-10" in size
Egg Rock – dry creek beds and decorative landscaping, 2"- 4" in size
---

Green Brothers Earth Works offers grasses popular in the Atlanta area including Bermuda, Meyer, Zoysia, and Fescue.
SOD Dressing – Green Brothers sod dressing has been used for years to increase organic matter, level your yard and raises the PH level in the soil. Use on Bermuda and Zoyzia grass only. Scalp your yard after you have cut your grass 3 times in the spring. Fill in low spots first. This could take several weeks to get your yard ready for the total yard coverage. Scalp the yard again, apply ½" of sod dressing over the entire yard. Rake, broom, drag any way you can to smooth the entire yard. As your yard greens up and grows, the Nutra Mulch will rise up. Do not cut with a real mower until you have blown the peanut hulls away. Use sand only on Centipede grass and use the sand sparingly. Top dressing Fescue can only be done with Nutra Mulch. Do not scalp Fescue. Aerate and seed your yard. Spread the Nutra Mulch 1/4″ over the yard and rake in lightly. This will break up clots from aeration and drag seeds into holes for a better root structure.
---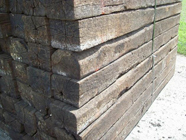 Green Brothers Earth Works offers outdoor building materials such as landscape timbers, 10" spikes, railroad ties, Pavestone pavers, stack stone, flagstone, and boulders to create outdoor living spaces. Not all locations have all products due to space. Call for availability.
---
Additionally, we provide:
Contact our Atlanta GA Bulk Landscaping Materials Supplies Company today for your all your landscape material and landscape supply needs.
Atlanta GA Bulk Landscaping Materials Supplies | Landscape Supplier
Atlanta | Alpharetta | Marietta | Norcross