Atlanta Sod Dressing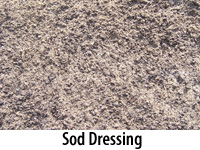 Many homeowners in the Atlanta area have an interest in leveling their lawn and creating a beautiful yard. Green Brothers Earth Works is the leading provider of sod dressing & topsoil in the Atlanta area.
Alpharetta Leveling Lawns
If you are interested in sod dressing for your yard, you are in the right place. Depending on what time of year it is when you are reading this information, you may need to have a little patience.
Companies that do sod dressing for a living need to work year round. Customers need to wait until their grass is green and growing fast, this means they have cut it at least 2 or 3 times before putting down sod dressing. This can be done any time from May thru August.
Level Lawns Marietta GA
Instructions: Scalp the grass first. Fill in low areas up to ½". Do not cover sod completely, leave a little stubble showing. After all spots have been filled, then you are ready to cover your whole yard. Make sure you level the sod dressing after it rains heavily or the sod dressing is disturbed.
Contact Our Sod Dressing Company Today!
If you need sod dressing to level your yard, please call or contact our Atlanta Sod Dressing Company today to schedule your delivery.
Sod Dressing | Level Lawns | Leveling Lawns
Atlanta | Alpharetta | Marietta | Buford