Atlanta Topsoil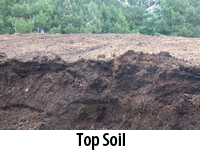 Most large-scale landscaping projects will require topsoil. When and where to use a topsoil landscaping material is sometimes a mystery to the average gardener. Professional landscapers, though, know the value of using quality topsoil in their landscaping projects. At Green Brothers Earth Works, we sell only the highest quality topsoil. Our topsoil is debris-free, providing a great landscaping product that is easy to use by both weekend gardeners and professional landscapers.
Landscaping Topsoil Alpharetta GA
Topsoil is good clean healthy soil. Typically, topsoil is created by sifting and screening soil to remove any sticks, rocks or other contaminants. Topsoil is not usually infused with fertilizer, but is a good rich soil anyway.
Gwinnett County Topsoil
Some of the many uses for topsoil include:
If your planting area has poor soil quality, you can increase the richness of the soil by mixing topsoil and compost with the present soil.
Top soil is the top 18" of Georgia soil, a clay base soil.
Green Brothers Earth Works screens this soil to make it more pliable and easy to move.
GA Top Soil has many uses – back filling walls, leveling sod areas prior to laying sod.
Farmers have been growing vegetables in GA Top soil for years. GA Top Soil has a 4.5 to 6.5 average PH level.
Contact our Atlanta Top Soil Company for the best topsoil in the Atlanta Metro area.
Topsoil | Landscaping Topsoil | Composted Topsoil
Atlanta | Alpharetta | Marietta | Gwinnett County