Atlanta Sand Supplier
Green Brothers Earth Works does not sell manufactured sand for our sand boxes or any other applications.  Manufactured sand is a carcinogen and very dangerous to our children.
Sand has a number of uses in many landscaping projects. Finding high-quality river or white sand is just a phone call away when you rely on Green Brothers Earth Works for your landscape materials and landscape supplies.
Used in concrete, masonry, stucco, and to serve as filler between paving stones, outdoor tiles, and rocks, sand is an affordable alternative to other expensive landscape filler materials. Use sand to mix with loam to create a sand-loam mixture for plants which prefer dry soils to eliminate the need for extra diligence in keeping these areas dry. Sand is also a useful landscape material in the preparation of flowerbeds for tropical, sand-loving plants. Using sand in these types of beds will enable you to create an attractive, tropical outdoor living environment.
River Sand Alpharetta GA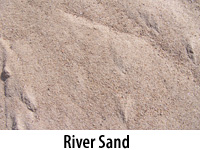 River sand, typically used to manufacture mortar and concrete for stone and brick work, is plentiful at Green Brothers Earth Works. River sand is a good alternative to costly bagged sand for use in sandboxes, as a cushion under above-ground pools, and as a top-dressing for lawns. Used in soil mixes, sod dressing and earth food manure, river sand is a great additive to gardening mixes to add bulk to your landscape growing materials as well. At Green Brothers Earth Works we sell only the finest in river sand.
White Sand Marietta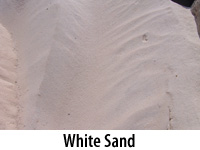 White sand is a useful landscaping material, and is the most often used type of sand to fill sandboxes and play boxes. Clean and affordable, white sand makes a great looking sandbox or play area. Beware though, cats like white sand, so you'll want to make sure you have a cover for your sandbox.
For your landscape sand needs, contact us at our Atlanta Sand Suppliers. We'll help you determine which sand will work best for your particular landscaping project, determine how much you need, and deliver it to your home or work area for use in your next outdoor living environment project.
Sand Supplier | River Sand | White Sand
Atlanta | Alpharetta | Marietta | Norcross