Atlanta Landscape Timbers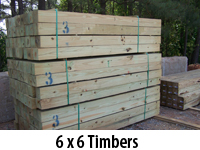 Nothing completes a landscaping project more than a well-appointed hardscape. And, some of the most versatile, attractive, and functional landscape materials for constructing decorative borders, retaining walls, and edgings are landscaping timbers or railroad ties. Green Brothers Earth Works procures the very best in these landscaping materials.
At Green Brothers Earth Works, we stock 6 x 6 x 8, #3 treated landscape timbers that are sure to help you create a sturdy, durable wall, driveway line or other landscape structure. And if landscaping timbers aren't your style, we stock the very best in #1 railroad ties as well.
Alpharetta GA Railroad Ties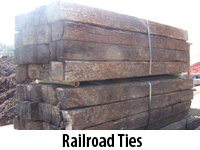 Railroad ties and landscaping timbers can be used to create all kinds of decorative and functional landscape structures. Inexpensive and easily-installed landscape materials, landscape timbers and railroad ties are a great alternative to brick or block landscape construction materials. These sturdy landscaping materials can be horizontally, vertically, or diagonally stacked, staggered front to back and top to bottom to create a variety of garden borders, risers for stairs terraces or retaining walls. They can be angled, stood upright or set in a weave pattern to create a unique fence, line a walkway or contain a flower bed. Jumbled, landscape timbers or railroad ties can be placed among boulders to create an artistic, outdoor living environment.
Marietta Building Material
As an added bonus, the use of landscape timbers and railroad ties in outdoor living environment areas makes lawn and garden maintenance easier. Division of lawn areas from garden areas with durable landscape material is will protect sprinklers from damage, make mowing easier and eliminate the worry of damaging fragile plants or other less sturdy landscaping materials with edgers.
Easy to work with and install, railroad ties or landscape timbers incorporated into your outdoor living environment design will enhance your landscape and decrease your ground maintenance labor costs.
When you find yourself in the market for quality landscape timbers or railroad ties, contact our Atlanta Landscape Timbers Company at Green Brothers Earth Works landscape material and landscape supply center for the purchase of quality landscape materials and landscape supplies.
Not all locations have railroad ties due to space and availability. Call for availability.
Landscape Timbers | Railroad Ties | Building Material
Atlana | Alpharetta | Marietta | Duluth